The Coros Vertix 2 is Garmin Fenix's rival that delivers all the things you'd want in an outdoor watch. But does it top its competitor's performance? The Coros Vertex 2 is a professional-grade outdoor watch that offers all the features and functions you'd want in an outdoor watch. It's been designed to rival the Garmin Fenix, and it definitely delivers on that front.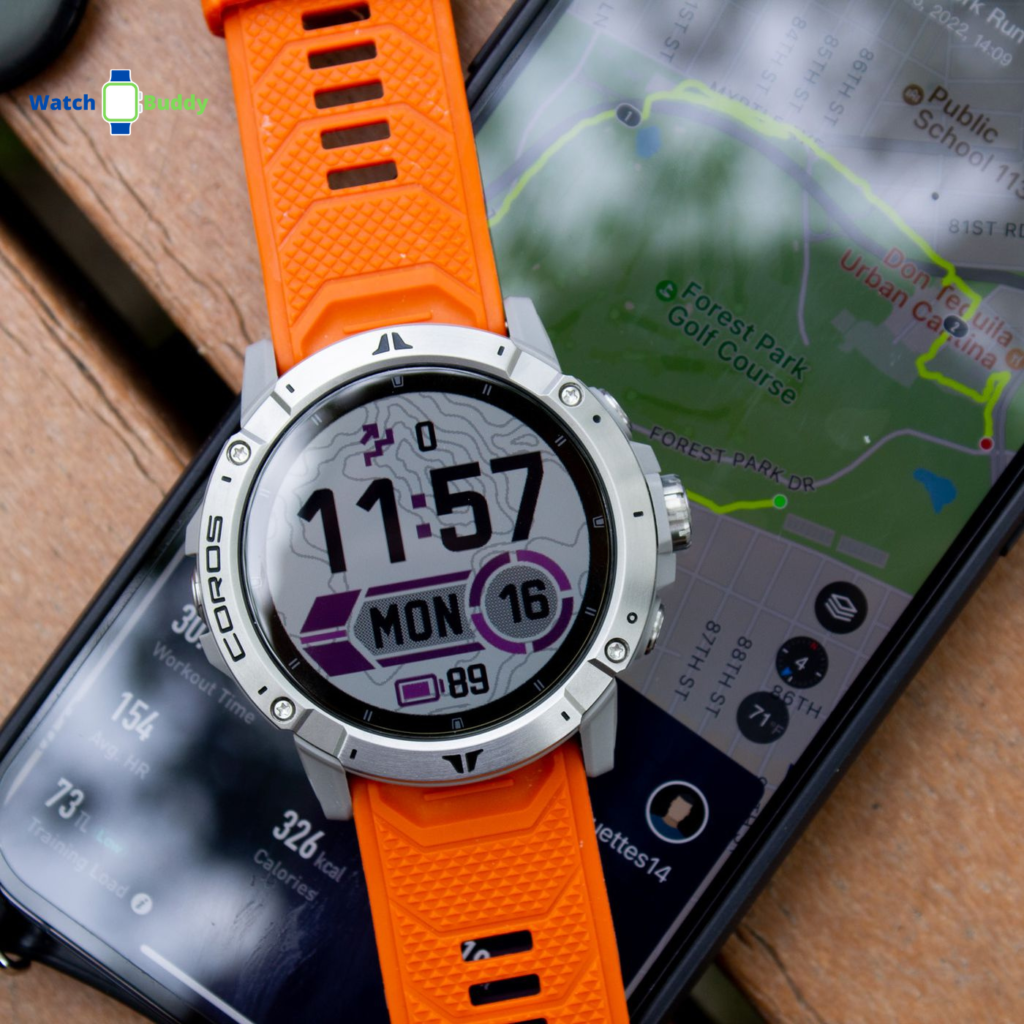 The watch has a rugged design that can withstand even the most extreme conditions, and it comes packed with features like GPS, GLONASS, and Galileo support, altitude and barometric tracking, heart rate monitoring, and more. It also has a color display that's easily visible in all light conditions, and it supports a variety of interchangeable bands so you can customize its look.
The original Vertix was a solid and reliable GPS running watch, but it had a few drawbacks. The new Vertix 2 seeks to improve upon its predecessor in a few key ways.
Read More – Garmin Forerunner 265 review
First and foremost, the Vertix 2 now features music storage and offline playback, so you can leave your phone at home when you go for a run. It also has a larger and more vibrant color display, as well as a new always-on mode that makes it easier to see your stats at a glance. Finally, the Vertix 2 features improved sensors for more accurate tracking of your heart rate, pace, and distance.
Our Quick Review for Coros Vertix 2
The Coros Vertix 2 is the latest GPS sports watch from Coros. It's a significant upgrade from the original Vertix, and it offers a much higher level of tracking accuracy. It's also very lightweight and comfortable to wear, making it a great option for athletes who want a high-quality GPS watch.
The Vertix 2 has much to offer, including advanced tracking features and a large color display. It's a great choice for athletes who want a reliable GPS watch to track their performances accurately.
Design and display
The Coros Vertix 2 is a watch that doesn't go unnoticed when it's on your wrist. With its bold design and athletic look, it makes a statement without being too flashy. And while its good looks are sure to turn heads, it's the Vertix 2's performance that really impresses.
The display of the Coros Vertix 2 is a 1.4-inch, sunlight-visible, high-resolution color touchscreen that offers excellent visibility even in bright outdoor conditions. The display is protected by a sapphire glass lens, which is highly scratch-resistant and durable. The user interface of the smartwatch is designed to be intuitive and user-friendly, with easy-to-navigate menus and customizable watch faces.
The smartwatch packed with features that any outdoor enthusiast will appreciate. Its GPS tracking and altimeter keep you on track and aware of your surroundings, while the built-in heart rate monitor ensures you're always in the know when it comes to your physical activity. And with a battery life of up to 30 days, you can rest assured that the Vertix 2 will be there for you when you need it most.
It is a GPS watch designed for outdoor activities such as hiking, climbing, and trail running. It features a rugged, water-resistant design and a large, color display that is easy to read in all conditions. The Vertix 2 also includes built-in sensors for altimeter, barometer, and compass, making it a great tool for navigation.
Sports and fitness tracking
The Vertix 2 features a huge range of features, so it can take a bit of time to get used to all of them. If you're new to the Vertix 2, we recommend taking some time to explore all of its features so you can get the most out of it.
From its color LCD display to its integrated GPS and heart rate monitor, the Vertix 2 has everything you need to stay connected and motivated during your workouts. It also has a variety of training modes so you can customize your workouts to suit your goals. And if you're looking for a challenge, the Vertix 2 can even be used to track your progress over time.
It is a well-rounded sports watch that is great for activities like swimming and strength training. Its tracking abilities are slightly better than Garmin's, making it a good choice for those who want a reliable watch for their workouts.
The Coros Vertix 2 is a top-of-the-line GPS watch that offers a variety of features for athletes and outdoor enthusiasts. One of the most unique features of the Vertix 2 is its EvoLab insights, which can offer training load, training effect and recovery timer features. This makes it best for athletes who want to track their progress and ensure they are getting the most out of their workouts.
In addition to its EvoLab insights, the Vertix 2 also includes a number of other features that make it a great choice for anyone who loves the outdoors. It has a titanium bezel and a sapphire crystal lens, which make it extremely durable. It is also water-resistant up to 100 meters, so you can take it swimming or diving without worry.
Battery life
The Coros Vertix 2 is a top-of-the-line GPS watch that offers an incredible 140 hours of battery life in full GPS mode. 50 hours in dual frequency mode. And an impressive 60 days of battery life in daily use. This watch is perfect for any adventurer who wants to push the limits and stay out longer. With Coros Vertix 2, you can be sure you won't be left stranded without GPS.
Also, Garmin Instinct 2 Solar review
Despite these upgrades, the Vertix 2 still offers exceptional battery life, with up to 140 hours of continuous GPS tracking on a single charge in UltraMax mode, and up to 60 hours of continuous GPS tracking in normal GPS mode. In addition, the watch also supports custom battery settings, allowing users to optimize battery life based on their specific needs and usage patterns.
The Coros Vertix 2 is a great choice for athletes who need a reliable GPS watch with advanced features. It's also a great choice for anyone who wants a durable watch with built-in LTE.